North Dakota Flooding – AI Responds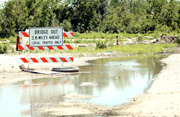 As forecasters predict possible record flood levels on several rivers — including the Red River that winds through eastern portions of North and South Dakota and western Minnesota — Adjusters International is prepared to help those affected. With teams of professionals in the areas hardest hit, AI is well-prepared to handle major property damage recovery efforts.
For more information on how Adjusters International can be of assistance to you, please contact us.