Latest Adjusting Today on Press!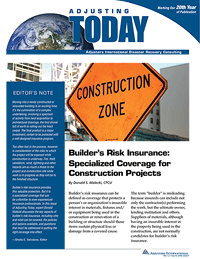 The 37th edition of Adjusting Today will be in mailboxes soon. Focusing on Builder's Risk Coverage, this issue was penned by well-known insurance author Donald Malecki, CPCU. Here Mr. Malecki discusses the key aspects of builder's risk insurance, including who and what can be covered, the policies and options available, and questions that must be addressed in putting the right coverage into effect.
Now marking its 20th year, subscriptions to Adjusting Today remain free of charge. This popular publication is offered in hard copy or PDF format and insurance professionals, business owners and anyone interested in staying current in the ever-changing insurance industry can subscribe now.