American Heart Association Gives AI Thanks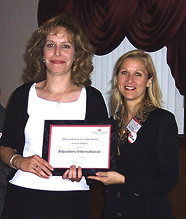 Adjusters International was recently honored as a "Friend" of the American Heart Association for supporting the Association in a variety of ways. Adjusters International's involvement in America's Greatest Heart Run and Walk spans nearly 15 years. Team Isabel—named for the granddaughter of AI's President & CEO and his wife, Ron & Sheila Cuccaro—has raised tens of thousands of dollars for heart research. Isabel Cuccaro-Alamin was born with a life-threatening heart defect and received life-saving surgery before she was two weeks old. Today she is a thriving 9 year old child, thanks to the advances in heart research.
Accepting the award on behalf of AI is Sheila Salvatore (left), Manager of Communications.