AI Marks 25th Anniversary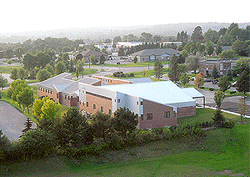 In June 1985, Adjusters International was formed and in the past 25 years has grown to some 40 offices nationwide. This quarter century of service to those who have suffered property damage has AI's client roster including many of the major names in the private and public sectors. The company's in-depth knowledge of insurance adjusting and the FEMA Public Assistance program is a direct result of their management of claims resulting from the nation's most serious disasters. AI has handled such claims as those resulting from The Oklahoma City Bombing, 1993 World Trade Center bombing and their recovery from the catastrophic 9-11-01 event, and the City of New Orleans following Hurricane Katrina.
Adjusters International is one of the nation's largest public adjusting organizations and a leader in disaster recovery services for FEMA's Public Assistance program. Public adjusters work on behalf of insured clients — not insurance companies — to prepare and settle their property damage claims. FEMA's Public Assistance program encompasses grants to eligible participants whose losses are eligible under the FEMA Public Assistance program and not covered by insurance. AI's public adjusters and disaster recovery consultants work side by side, combining insurance and FEMA recovery grants to achieve the best financial recovery for their clients.