Adjusters International's Efforts Recognized at Ground-Breaking Ceremony
Record-setting flood waters in 2008 caused severe damage to the Cedar Rapids Community School District's properties. The groundbreaking ceremony for the District's new Services Campus was held on June 28, 2010. District Superintendent Dr. Dave Benson, acknowledged elected officials from the state, county and city governments, as well as school board members. Thanking FEMA and State Emergency Management personnel for their efforts, he pointed out the efforts of Adjusters International. Adjusters International has been working with the District on their flood recovery claims since June 2008, and Dr. Benson expressed the District's gratitude for their guidance and support.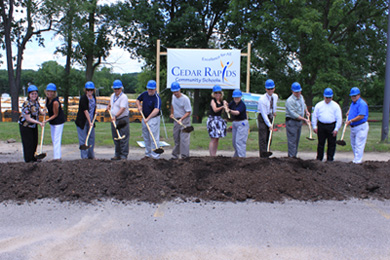 Photo courtesy of Cedar Rapids Community Schools. Adjusters International Disaster Recovery personnel pictured far right (L to R): Bob Wright, Marty Calabro and Bill Sherman.