Adjusters International: "Responding to the Worst Disasters"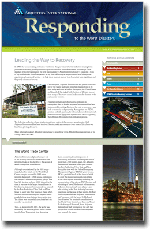 Over the past quarter century, Adjusters International has grown to become one of the largest and most respected organizations in the disaster recovery field. Today we have over 40 offices throughout the United States and in Canada, helping policyholders of all types recover from the worst natural and manmade disasters.
Our newest publication "Responding to the Worst Disasters" highlights the recovery efforts we have undertaken on behalf of our clients, including: The World Trade Center's bombings of 1993 and 9-11-2001; The Government of Kuwait following the Persian Gulf War; the State of Oklahoma following the Oklahoma City bombing; the Mississippi Coast Coliseum & Convention Center after Hurricane Katrina; and working with state emergency management teams.