Adjusters International: "Godsend to Linn County"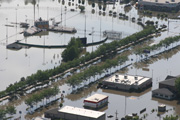 When the Cedar River overflowed its banks in June 2008, Linn County turned to Adjusters International for assistance in assessing their damages — which to date have totaled over $55 million. For their efforts on behalf of the County, Supervisor Ben Rogers was quoted in the GazetteOnline as saying of Adjusters International "They have been a Godsend to Linn County. They are one of the reasons we are so far along in our recovery."
Adjusters International's extensive expertise in assisting those who have suffered catastrophic property damage comes from their 25-year history of helping those affected by fires, floods, every major hurricane and earthquake, as well as tornadoes and winter storms. AI's client roster includes many of the major names in the private and public sectors. The company's in-depth knowledge of insurance adjusting and the FEMA Public Assistance program is a direct result of their management of claims resulting from the nation's most serious disasters. AI has handled such claims as those resulting from The Oklahoma City Bombing, 1993 World Trade Center bombing and their recovery from the catastrophic 9-11-01 event, and the City of New Orleans following Hurricane Katrina.