Helping Children Understand and Cope With a Natural Disaster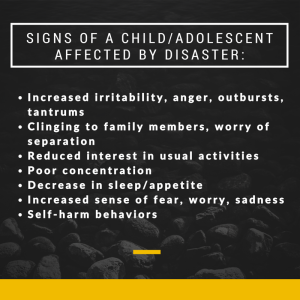 When traumatic weather hits, every living being in the surrounding area becomes vulnerable; a storm will not discriminate between seniors, adults, adolescents, children, animals, or pets. Unfortunately, children are not exempt from the long-lasting mental effects of a natural disaster that can wipe out everything they knew to be stable: entire homes, towns, and communities. As a parent, caregiver, family member or teacher with young children or adolescents to look after, there are many steps you can take to prepare for a disaster and thereby increase their chance of survival and mental health afterwards.
Preparation
Children should be informed of the possible disasters and dangers your area is prone to (i.e. the Midwest has a higher risk for tornadoes; coastlines have an increased risk of hurricanes, etc.)

Preparing your child for the future teaches them foresight and responsibility

Come up with a family plan

Create a communications plan

Include phone numbers of family members, emergency officials, neighbors and out of state friends/relatives

Run through evacuation drills and disaster scenarios

Pin-point safe spots in every room
Locate on and  off-site premises where your family will meet
Role-playing is crucial; for example, if your child's escape route is through a bedroom window, you must ensure beforehand that the window is in working order – running through your plan can help mitigate these errors before an actual disaster takes place.
During the storm
Execute your plan and attempt to keep the child as calm and comfortable as possible. Once in a safe location, it is important to keep them fed and hydrated. Bringing games or activities for them to preoccupy themselves with in the meantime is especially helpful.
Post-disaster
 

Natural disasters and acts of terrorism can be extremely traumatic for children. Children are able to understand when something bad happens and more likely than not, they can remember their experiences throughout a traumatic event. Children may also develop symptoms of posttraumatic stress, which, if not treated, may lead to maladaptive behaviors that can interfere with successful functioning. These symptoms can also have a major impact on physical, mental, emotional, and spiritual well-being. Following a major disaster, it is crucial for parents and caregivers to be aware of their children's needs, and to act appropriately based on each individual child's experiences. It is also important to reach out to qualified mental health professional who can screen for and treat symptoms of posttraumatic stress. This will help the child and the child's family move forward after a trauma and return to a healthy state of functioning and overall well-being.
– Carol Gazitano – MA, LMFT at the Child Advocacy Center of Oswego County
The devastation of a natural disaster can affect children drastically. Seeing your home, town and community ripped to pieces is an overwhelming experience for anyone to endure. It is important to note that "children are particularly vulnerable to the stress that follows a natural disaster, and their symptoms may linger much longer than in adults according to mental health experts" according to the Federal Emergency Management Agency (FEMA). A child's brain is still developing and they are less able to anticipate possible danger. Adults have 'foresight,' meaning they are able to recognize and prepare for events such as a traumatic experience and realize that there are options, resources and help. Children may not realize this and need additional time and aid in understanding the impact and 'seeing the light at the end of the tunnel.'
Help your child cope

Teachers

School gives children a routine environment that can be especially beneficial post-disaster as it creates a sense of stability and security for them.

Encourage them

Make sure they are keeping up with their regular activities and participating in sports, friends, family, activities, and other events.

Acknowledge their feelings

Children have a more difficult time than adults in formulating their feelings into thoughts that can be expressed outwardly
Be empathetic

Give children a forum to speak

Help them understand that their feelings and fears are normal and expected

Help them feel safe

Take extra time to hold, hug, calm and comfort them post-disaster

Secure additional resources

Such as a therapist or mental health professional
In recent years, many shocking events have taken our country by storm such as the 9/11 Terrorist Attacks, Hurricane Katrina and Sandy and countless earthquakes and tornadoes. Not only have these events forever changed the landscape and geography of cities and entire regions, but they have also impacted the mental health of communities and the children who reside in them. It is important to not only prepare for a natural disaster, but to ensure that your child has the resources and means available to overcome such a traumatic event.
For further reading on this topic, visit:
Many Children Struggling After '05 Storms – The New York Times
Still at Risk: U.S. Children 10 Years after Hurricane Katrina – Save the Children