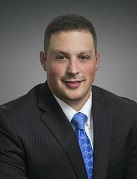 Frank C. Sardelli, MBA
Financial Reporting Manager
Adjusters International Corporate Office
126 Business Park Drive
Utica, NY 13502
Professional Profile
Frank Sardelli is the Financial Reporting Manager and a Senior Professional Accountant with over five years experience in financial reporting functions.
Sardelli has been involved in all aspects of financial statement preparation. During a six (6) month period, Sardelli acted as interim Controller and was responsible for the production of all financial statements and reporting. He has also provided vital financial analysis through processes he has developed. Most recently Sardelli has served as Project Manager for an audit relating to a Disaster Case Management (DR-4085 DCM) FEMA Grant to NYS for Sandy relief.
His past employment experience prior to joining Adjusters International includes serving as an accountant at Utica National Insurance Group, where he was responsible for financial statement preparation, as well as an array of analysis functions. He also served as a tax accountant for a local CPA firm. His duties there consisted of corporate, and personal income tax returns, as well as payroll services and tax forms filing for small business accounts.
Disaster Experience
DR-4085 Disaster Case Management 
Training
IS-700 National Incident Management System, an Introduction
IS-775 Emergency Operations Center Management and Operations
IS-800 National Response Framework, an Introduction
ICS-100 Introduction to the Incident Command System
ICS-200 ICS for Single Resources and Initial Action Incidents
ICS-300 Intermediate ICS for Expanding Incidents
ICS-400 Advanced ICS – Command and General Staff – Complex Incidents
Personal Affiliations