Home » Publications » Disaster Recovery Today » A Second Disaster Strikes: Will FEMA Pay Again?
A Second Disaster Strikes: Will FEMA Pay Again?: Know Your Obtain and Maintain Requirements!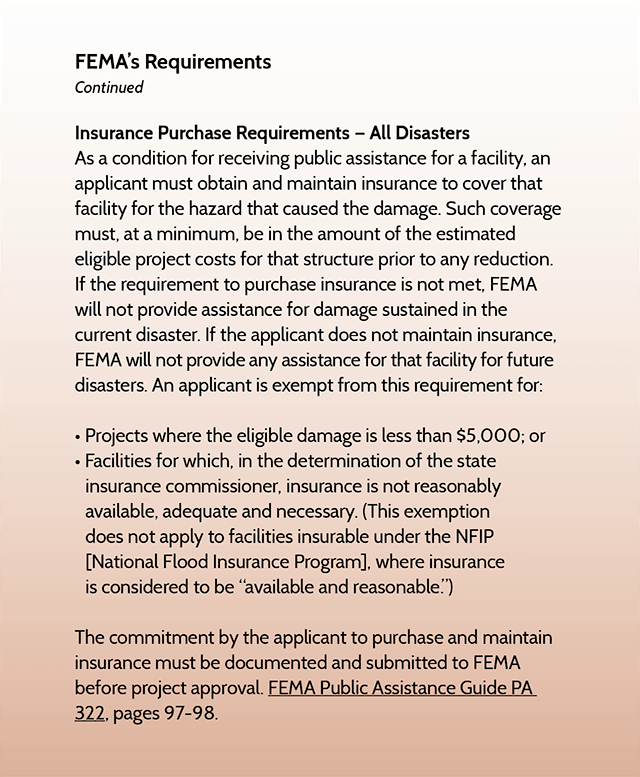 the remaining life of the asset in the amount of the FEMA Public Assistance funding received for the hazard that caused the damage (e.g., flood, wind, terrorism).
Failure to meet this requirement means risking the loss of all Public Assistance funding for that facility or item if it is damaged by the same hazard again in the future. This could pose a serious
challenge to your organization's operating budget if your disaster losses are substantial, as was the case for FEMA Public Assistance Program applicants in the California Northridge Earthquake of 1994, the New York City 9/11 disaster in 2001, the Florida hurricanes of 2004 and 2005, the Gulf Coast Katrina and Rita disasters of 2005, and hurricanes Ike and Gustav in 2008.
Not only are you faced with buying new property insurance to meet the obtain and maintain requirements — thereby increasing your insurance premiums now and for the future — you could be faced with a highly volatile insurance market, as was the case in the disasters cited.
Additional insurance coverage —
Might not be available to you or available in the levels needed to insure the total amounts of your FEMA project grants;
Might be available, but priced at far higher premiums than were the case pre-disaster;
Might be accompanied by substantial increases in deductibles.
It is very important to understand FEMA's insurance requirements and the potential liabilities they pose. The focus of this issue of Disaster Recovery Today is to provide you with an understanding of those requirements, along with FEMA's process for dealing with insurance. What's more, we will provide strategies you can use to ensure your recovery.
Lessons from Katrina
While the Katrina and Rita disasters in 2005 far exceeded the scope and damages of the 9/11 event, the effects on Public Assistance applicants and the insurance marketplace were all too similar. As applicants slowly moved from response to recovery, FEMA's obtain and maintain requirements became of paramount concern across the Gulf Coast region.