Home » Publications » Adjusting Today » Disasters Raising Questions of Insurance Adequacy
Disasters Raising Questions of Insurance Adequacy: Bombings! Hurricanes! Earthquakes! Fires!
denied by civil authority because of the threat of damage or destruction—even when physical loss or damage took place many miles from the described premises. Close scrutiny of the civil authority coverage provision makes clear that it does not matter where the physical loss or damage takes place, so long as access by civil authority is denied as a result of it.
ISO did not provide a reason for the recent change in its civil authority coverage, but the changes specify that the direct physical loss or damage must take place not more than one mile from the damaged property. It should come as no surprise to learn that some insurers that file their own coverage forms already have such a restriction in their policies. In fact, one policy reviewed recently states that the damage must not take place more than one mile away.
Although the 72-hour waiting period for this coverage remains unchanged, another change makes this waiting period commence after the time that the first action of civil authority prohibits access to the described premises. The period of coverage is also being extended from three consecutive weeks to four consecutive weeks after the date of that action, or when the civil authority coverage for business income ends, whichever is later.
Two endorsements also are being revised, in conjunction with the revisions to the coverage forms. Civil Authority Increased Coverage Period CP 15 32 is being retitled, "Civil Authority Change(s)." The purpose of this endorsement is to change the coverage period from four weeks to the number of days shown and, probably at the discretion of the underwriter, to extend the one-mile restriction even farther.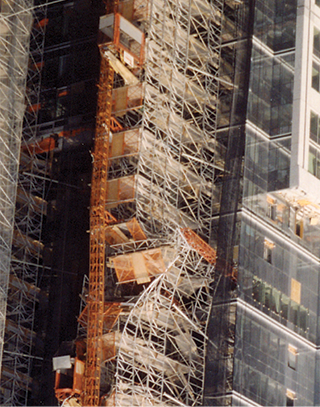 The second endorsement, Business Income Changes—Beginning of the Period of Restoration (No Waiting Period) CP 13 56, is being retitled, "Business Income Changes—Beginning of the Period of Restoration." At the underwriter's discretion, this endorsement is used to decrease the waiting period from 72 to 24 hours.
For building occupants who sustain damage to their property or any property on their premises that forces interruption of their operations or requires extra expenses to sustain operations, their business income coverage will apply to pay for lost net profit plus any continuing expense. If extra expense coverage is carried, either separately or as a part of the business income coverage, expenses incurred to maintain or
more quickly restore operations are covered, even if they exceed the amount by which the loss of business income is reduced. If extra expense coverage is not included, the recovery of such extra expenses under business income insurance will be limited to the amount by which the business income loss is reduced.
Extended Period of Indemnity
Historically, a business interruption insurance claim ended when the premises was restored and operations could be resumed (and merchandise stocks or production of manufactured goods brought to the same level that existed at the time of loss), unless extended period of indemnity coverage was purchased, extending the coverage beyond date of restoration to allow for the delay before the momentum of the business can be regained.
Under business income coverage, 30 days of extended period of indemnity coverage is included in the basic business income coverage. Even this amount of time may not be enough in a disaster situation, so consideration should be given to increasing the extended period of indemnity coverage beyond the basic 30 days. Up to 12 months coverage can be provided under standard ISO forms.
Scope of Business
Income Coverage
A problem that often develops for some commercial tenants involves their inability to occupy their own undamaged premises because of damage to the service areas of the building—elevators, lobby, etc. If the description of premises of the business income or extra expense