Multi-Family Complexes: Dealing with Apartment and Condo Association Insurance Claim Problems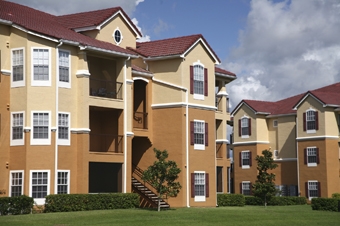 There are many different types of multi-family complexes, including: townhouses, rental apartments, condominiums and cooperative apartments. In terms of risk and insurance matters, all have many characteristics in common, but there are also important individual differences in the way they are insured for property loss, legal liability, and other loss exposures.
While simplicity is certainly one of the many benefits of apartment or condominium living, the insurance program that protects all of the parties and properties involved is often not so simple. In the event of a loss to the building, there are many insurance interests and exposures that need be considered by those who own, manage or reside in these buildings throughout the insurance claim process. Enlisting the help of an expert who knows how to mitigate the potential for condo insurance problems can help the process go smoothly.
Here at Adjusters International we go beyond merely settling the insurance claim. Our public adjusters manage the entire recovery process. We know how anticipate, and to minimize, the problems that stem from having so many decision makers involved in a claim. Our team of experts will:
devise a strategy that addresses the interests of owners, tenants, and property managers alike
act as a conduit of all communications between stakeholders, including owners, policyholders, and the varying insurance companies
speed up the claims process to get residents back in their units faster
Our focus during the insurance claim process is on the well-being of all the stakeholders. And it stays that way until the building, and every unit, is back in pre-loss condition.  We have years of experience in handling multi-family complex claims. Contact us today, and see how we can put that experience to work for you.
Resources for Multi-Family Complex Owners
Adjusting Today Multi-Family Complexes: (Apartment and Condo) An In-Depth Look at Insuring the Many Exposures and Losses
This issue of Adjusting Today takes an in-depth look at this important but often inadequately addressed subject of multi-family insurance problems; including the insurance risks and needs that should be considered by those who own, manage or reside in cooperative or rental apartments, or condominiums. Discussed are the differences between the three, the various risks to which they are exposed, and the coverages available to protect them and to avoid condo insurance problems.
Just as the nature of multi-family complexes has evolved to meet contemporary lifestyles and living needs, so must the insurance program that protects these properties respond to the specific exposures that owners, managers and occupants of these dwellings face. Designing, implementing and maintaining such a program is an effort to be taken every bit as seriously as that which went into creating the complex in the first place. It is essential to guarding the property's value and avoiding problems—and to optimizing and preserving the safety, security and overall quality of life that the facility offers.
11 Things You Can Do To Make Disaster Recovery Go More Smoothly
By definition, disasters are rarely tame or predictable, and few condominium associations are truly prepared for the full extent and nature of a disaster when it does strike. While recovery is never easy, there are a few key steps you can take before and after an event to help make your insurance claim—which is, after all, the basis for your financial recovery—go just a bit more smoothly.